Rehabilitation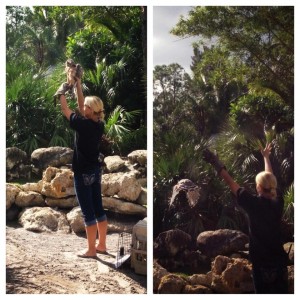 Our rehabilitation department has greatly expanded and we recently finished our raptor flight. The flight is 50′ long by 12′ high and 10′ wide for unlimited activity. Attached to that flight are 4 smaller limited activity flights measuring 6′ wide by 8′ long and 8′ high.
We now have a clinic and a recovery room for the injured and orphaned wild animals that come to the sanctuary for rehabilitation. From squirrels, hawks, owls to panthers we are more equipped than ever before to do rehabilitation from beginning to release. 
We are currently expanding our raptor center an area of flights set aside for those permanently impaired hawks and owls that will be used for educational programs. We have made many provisions. And have dedicated a lot of time to our bird rescue. Donations have help build a clinic and blinds along with the flights to help with the efforts of our bird rescue.
While on vacation in Wyoming, Mark and Aneth came upon an injured Golden Eagle just outside of the Big Horn Mountains. They prepared the injured bird for transport, and then met up with Wyoming Highway Patrol Brandon J Kiddgell.
Officer Kiddgell transported the eagle to the local wildlife rehabilitator Susan Ahalt of Ironside Bird Rescue. The Golden Eagle is doing fantastic and should be released back into the wild soon.